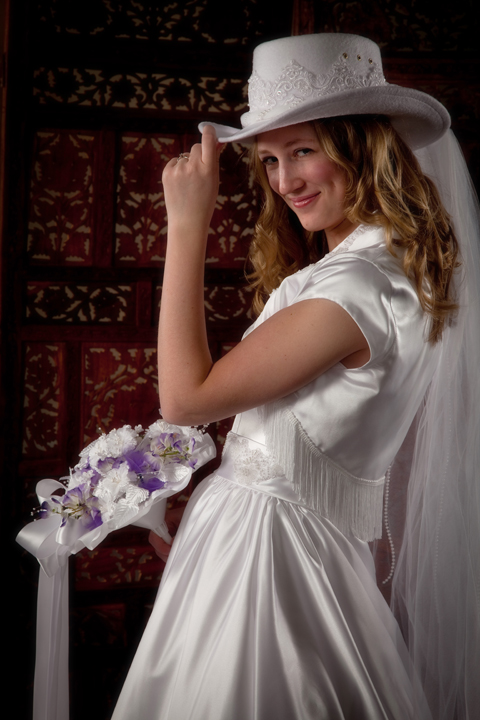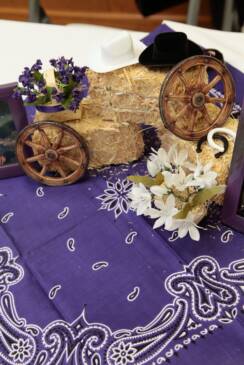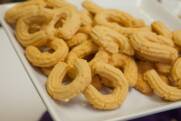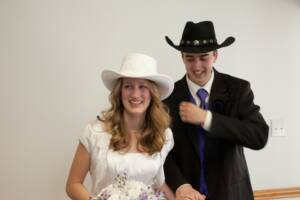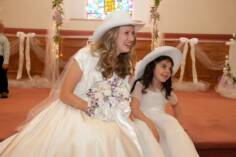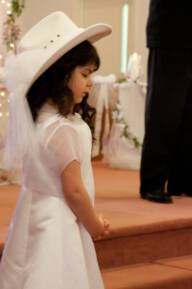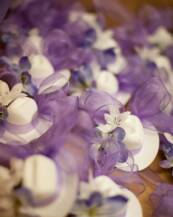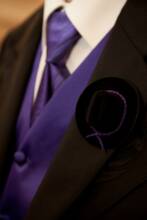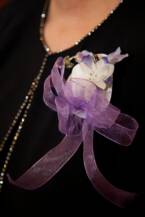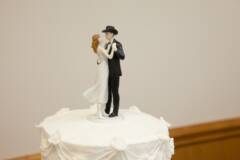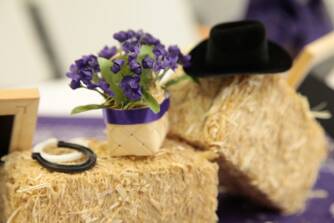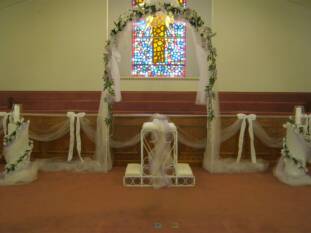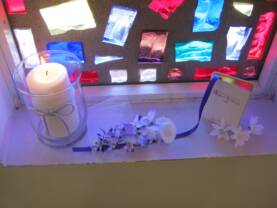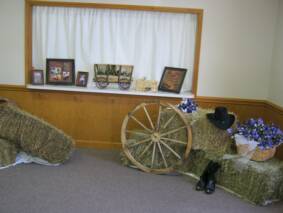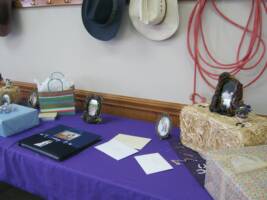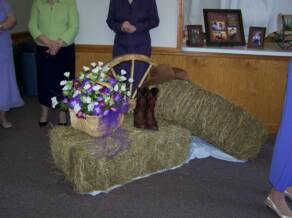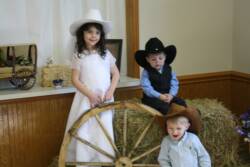 My daughter enjoys western wear and wanted her special day to have a western flare.  We searched and searched for a western style dress but could not find one she liked.  Then someone told us about a bridal store that was going out of business and had everything marked down.  She found a dress she liked that had a large group of silver beads in the center of the bodice, which she didn't like.  My mother took off the silver, and added white bead-work on the dress and yokes of the short jacket.  She also added white fringe all around the jacket.  My daughter found white cowboy hats for herself and the flower girl online.  She could not find any white boots, so that was something she "borrowed". 

Miniature black and white cowboy hats  were decorated for  boutonnieres.  Purple cord for the mens, and small artificial flowers and ribbon for the women, simply hot glued in place.  Safety pins were hot glued to the backs.

More of the miniature cowboy hats were used as table decorations for the reception.  They were placed on bandanas along with 2 1/2 inch baskets of flowers and 5 1/2 inch hay bales.  Small wooden picture frames (some spray painted purple) were also placed on the tables with pictures of the happy couple.  The wagon wheels are coasters.

The cake topper was ordered online. 

A dear friend made the cheese rings shaped like horseshoes.  She printed out pictures of horseshoes and placed wax paper over the pictures so that they all looked the same.

Other decorations for the reception included baskets of morning glories, authenic wagon wheels and hay bales, photos, and a small covered wagon of cactus plants.  Personal touches were his and her cowboy hats and boots.

At the back of the room she hung a lasso and cowboy hats.  (One in special memory of her grandfather.)

The archway was lit with clear lights and decorated with an arrangement of flowers on top, and flowing down the sides. 

The happy couple walked out to "Happy Trails To You" by Roy Rogers and Dale Evans.