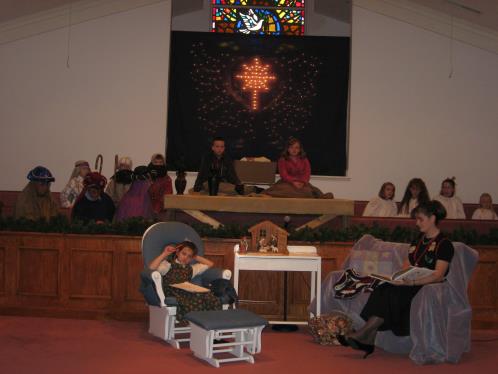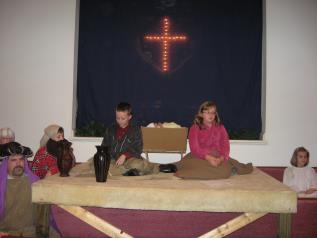 We used three strands of lights to show the little stars and the big star.  Two of the sets of lights were unplugged leaving the cross at the end of the play. 

A long strand of small lights was pinned at random places on the back of a large navy sheet.   It was hung on a wire and the lights shone through like stars in the night.  This was strand 1.

We used a very large piece of heavy cardboard for the 2 strands of larger lights of 25 bulbs each, which had to be hung on a rod due to the weight.  It will be easier to mark the cross first, then add the markings for the star shape.  We removed the bulbs from the wire and cut the holes just large enough to push each end through and screwed the bulbs back in.  Draw your cross as large as you want it and mark it as shown below with equal spaces between each bulb.  Start at the bottom and push the bulbs through in the numbered order.



















































Start here with

Strand 2 and skip

holes to work your

way up, and back down.

























The blue dots represent Strand 3 of lights.  We left the last bulb out of the 25 light strand.  Fill in each corner before moving to the next section.